Experience a guided fly fishing New Zealand adventure in the world renowned regions of Central Otago, Southland, South Westland and the Mckenzie Country. Imagine being surrounded by spectacular scenery, casting to wild trout in crystal clear waters and landing a fish of a lifetime ... Let me make this 'WOW' moment happen for you! We will sight-fish, stalking upstream and visually spotting each wild trout, before deciding our best approach and technique to land the wily trout. Water clarity is exceptional in New Zealand, especially the peak summer months during lower summer flows, and wary trout can see out as well as guide and client can see in! A slow stealthy approach is essential if you are to have any chance of deceiving one of these splendid fish.
I will pick you up by 4WD from your Wanaka or Queenstown accommodation at a pre-arranged time, usually between 6.30 - 8.00am. I recommend early starts to ensure we get to good water and maximise our day and your chances of success. We will typically drive between 30 - 90 minutes to access the pristine rivers, streams and still waters that the Wanaka, Haast, Southland and the Mackenzie Basin regions are renowned for. Locations will be determined by weather conditions, river conditions and your goals to ensure the day surpasses all your expectations landing wild New Zealand brown or rainbow trout.New Zealand trout fishing at it's best !
Lunch and refreshments provided....Quality equipment can be hired if you haven't brought your own.
Delicious snacks, lunches & refreshments are provided (if you have any dietary requirements please let me know in advance and will do my best to accommodate you request). I have sun block and bug spray in my 4WD for application at the start of the day if required.. I can also supply quality SCOTT fly rods, LAMSON reels, SIMMS Freestone waders and SIMMS Head-water wading boots if you have not brought your own gear to New Zealand, the above equipment can be hired as a full set for $30.00 NZD per person per day. Where possible I recommend you bring your own equipment to New Zealand as fishing with you own gear gives you added confidence when presenting your fly to trout in our renowned gin clear waters. All you need to bring is a sun hat, wet weather jacket and other warm clothes for the day, even through the summer months the weather can change unexpectedly as New Zealand can have four seasons in one day!
Please note if you are on any specific medication please bring enough for the duration of your trip, many of the small towns we will stay in do not have a Pharmacy nor a medical centre so you will need to be prepared.
Before you arrive in NZ...
I recommend spending time practising your basic casting techniques before arriving in New Zealand, as this will definetly give you an advantage through the many oppurtunities that will involve accurate presentation of your fly to the trout without excessive false casts being made. This in theory will prevent spooking or alarming the fish. Make those first casts count as you may not get a second chance with many New Zealand trout as they are very unforgiving of poorly presented flies. Felt soled boots are prohibited for use by freshwater anglers in New Zealand. This is because the felt may harbour and transport microscopic waterborne pests, particularly didymo. To slow the spread of the invasive alga didymo and other aquatic pests in New Zealand waterways, MAF Biosecurity New Zealand also requires ALL used freshwater fishing equipment brought into New Zealand to be clean and dry.
MAF Biosecurity staff require any freshwater fishing equipment which is NOT COMPLETELY DRY (inside and out) to be treated, regardless of whether it has been cleaned before coming to New Zealand. Treatment for some items takes time and will most likely take place outside of the airport. If it is not feasible for the owner to wait for treatment to be completed, they will have to make their own arrangements to collect the item or have it shipped to their New Zealand, or home address.

To avoid this inconvenience Fish & Game New Zealand asks visiting anglers to leave their felt soled waders at home and not bring them into New Zealand. It also reminds anglers to check, clean, dry all fishing equipment before arriving in this country.
Full Day
Full day guided fly FISHING Charter for 1-2 anglers.
Pick up and drop off from your accommodation in a modern air-conditioned 4WD

Delicious snacks, lunch & refreshments provided for the duration of the day.

Day typically is 8am - 6pm,but may vary due to weather and river conditions.
Half Day option available, and typically runs from 8am - 1pm or 12pm - 5pm.
FULL DAY RATE : $850.00 / 1 ANGLER; $895.00 / 2 ANGLERS
HALF DAY Rate : $550.00 / 1 angler; $600.00 / 2 anglers
Please note he above prices do not include the price of a fishing licence ,these are required by each person fishing and can be purchased online through the New Zealand Fish and Game website at a cost of $25.00 NZD per person per day.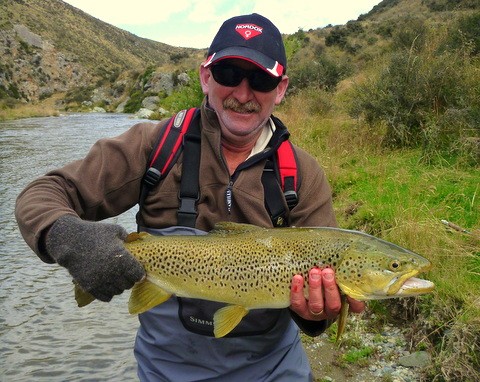 Multi Day Road Trip Adventure
These fly fishing New Zealand expeditions are a superb way to experience a wide variety of fly fishing waters in the lower South Island. Each region offers world-class fly fishing in stunning locations .One of the major attractions of fly fishing here in New Zealand is the ability to sight fish. There is nothing more rewarding than sighting a fish in a river or stream, presenting your fly to it and hooking up ! It can be very challenging fishing some days and patients is needed, but the rewards are well worth the effort when things come together ! Feel free to contact me and we can put together an itinerary for you.
This fishing charter totally maximizes your time fly fishing here in New Zealand. Flexibility is the key here as we can drive to a wide variety of different rivers,streams and still waters each day from our base, I will get you onto the best waters each day, depending on the weather pattern and fishing conditions at the time.
My guide fee is $850.00 / 1 angler; $895.00 / 2 anglers. Accommodation and meals are additional cost. Quotes provided on your enquiry.
The Fish & Rivers
Multi day Road Trips are based throughout Southland, Mackenzie Country, Central Otago and South West-land, all of which offer the angler something a little different, from larger alluvial river valleys, medium sized freestone rivers, and crystal clear well oxygenated spring creeks; all holding large wild brown and rainbow trout.Experience some of the best New Zealand trout fishing the South Island has to offer.The average size of trout is between 3-5lbs with some going well beyond that, with the occasional lucky angler each season landing a trophy trout over the magic 10lb + mark!
The Accommodation
I have hand-picked each accommodation base in all regions, that offer the best access point to the widest variety of good waterways, and that offer good clean accommodation and quality eateries.
Accommodation options include B&B's, motels, camp ground cabins, good ol' kiwi-style pubs, camp outs and luxury lodges. Some thing for ever ones budget and taste.
The Details
The options are endless and I will tailor-make your own unique personal multi day fly fishing charter ! Typical trips are 2-4+ days on the road and may see us venture into the Southland , South Westland and Mckenzie Country regions, basing ourselves in the towns of Twizel, Mossburn, Te Anau, Kurow, Tekapo or Haast. All trips are based upon weather and river conditions upon the commencement of the trip along with clients ability and skill level, I will pick you up from your Wanaka or Queenstown accommodation, or straight at Queenstown's International/National airport from where your New Zealand Fly Fishing adventure begins !
Heli Fishing
The ultimate fly fishing New Zealand adventure. A Heli flight into the majestic Southern Alps is the ultimate experience for the dedicated angler.
You can expect to access remote wilderness rivers and streams with gin clear water, fly fish in seclusion casting to wild brown trout; all the while in stunning scenery that New Zealand trout fishing is world famous for.
I have access to several helicopter companies, all highly experienced in getting anglers to these majestic environments. I provide delicious picnic lunch, snacks and refreshments, quality equipment and flies.
Helicopter hire costs are an additional charge to my daily guide fee, hire cost is dependent on fly time.
To experience New Zealand trout fishing in crystal clear mountain streams, fly fishing to large wild brown and rainbow trout in magnificent landscapes with breathtaking scenery contact me now!
Ex Wanaka or Queenstown PRICES start from $2500.00
Ex Haast start from $900.00 best suited on a South Westland multi day road trip.
Tuition
Ever wanted to give fly fishing a go? I can introduce you to the art of fly fishing with attentive tuition for the beginner through to the experienced angler. Quality equipment supplied or bring along your own.Please email with any questions you have and we can discuss things in more detail.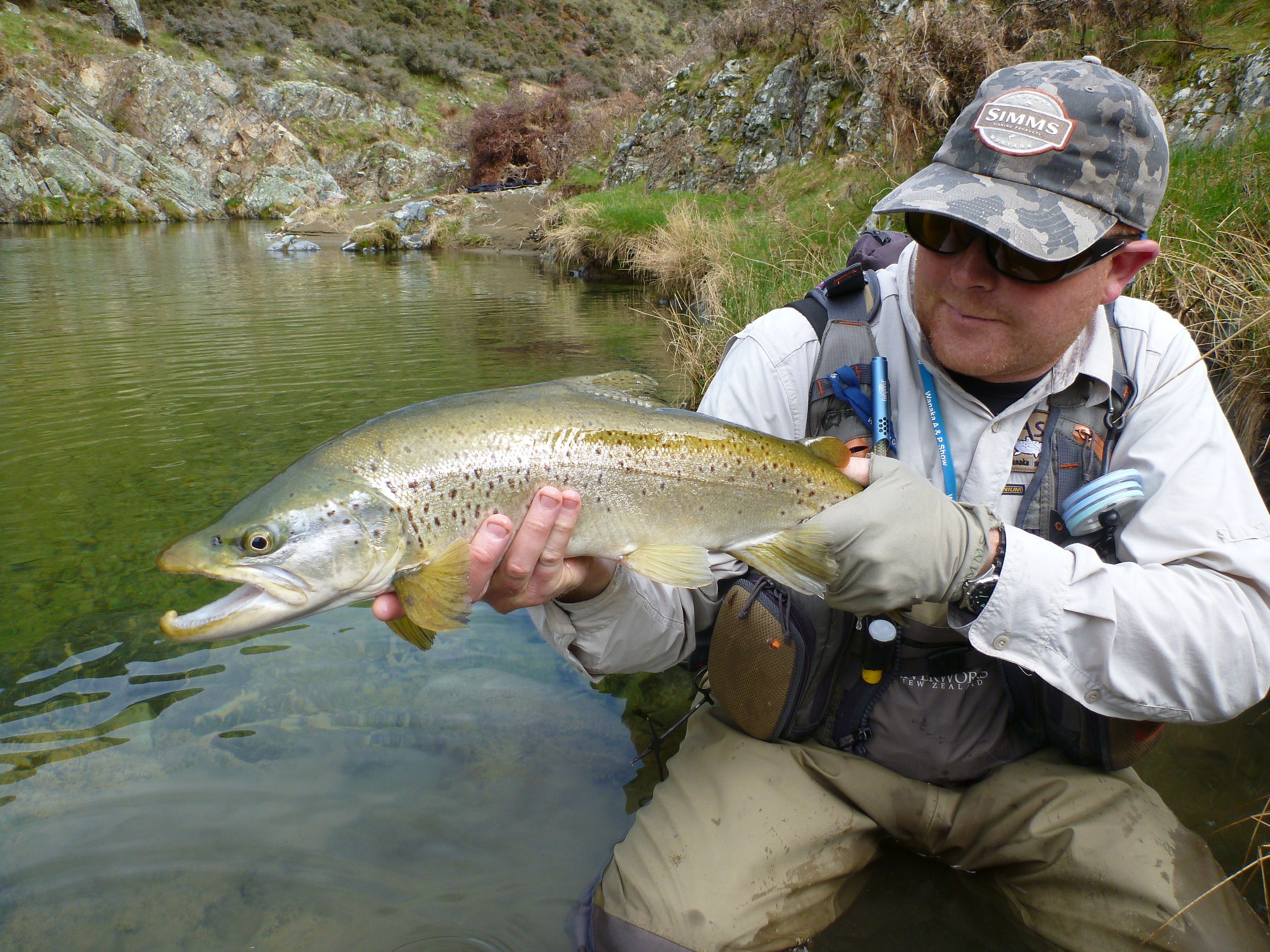 Licences
Please note, you must have a current New Zealand fishing licence to fish in New Zealand .
An Adult full season licence is $120.00 per person and a 24hr licence is $25.00 per person.
This season sees the introduction of an Adult non-resident whole season licence of $160.00 per person and a 24hr licence of $25.00 per person.
These can purchased online through the New Zealand Fish and Game website.
Contact me now to book your Fly fishing New Zealand adventure!